Jeremy with his HUGE Lower End boar
What a difference a few weeks and a lot of cold weather makes for hunting hogs in the South Carolina lowcountry. Because after a warm fall, our guests have continued to see good movement while taking out some great hogs since the first of the year.
Members of the Ashe County Wildlife Club in NC joined us the weekend before last, and they kept the hog ball rolling with several great hog kills and tons of hogs sighted. They truly had a fantastic time, and as a matter of fact, the group went ahead and booked again for April, which is still a great time for hog hunting in South Carolina. Their return trip will also give us a chance to get some of the pictures they took of their kills IF they don't go ahead and email them to us… HINT HINT

That same weekend, we also had the parents of our guide Justin down from PA. And his dad, Dave, took a nice pig over on Boggy Creek while his mom had some close calls with sows and piglets, but just couldn't get the crosshairs on the big boar she wanted. Fortunately they are planning to return trip to South Carolina this Spring to take another shot at our hogs along with our Eastern turkey.
And we can't forget another guest from that same weekend, Dave from DC. He used a traditional muzzleloader to take his great hog down over on Boggy Creek! That is quite a feat on such a tough animal, so congratulations to him.
During the week we only had a few hunters in camp, but several more nice hogs were taken as well. Jeremy, down from VA with three fellow plumbers and one electrician, knocked down a HUGE boar on the Lower End tract while his friend Mike shot a nice meat hog. Hopefully their cooler of pork holds them until March when they return again.
Muzzleloader Dave with a great boar
That brings us to this past weekend when we had our great friends Randy, Gene and Joe from NC join us for their monthly hunt along with several of their buddies. Unfortunately, while the rain managed to hold off, the weather was pretty weird, and only a bunch of sows with piglets were seen along with some great bucks… But isn't that almost always how it goes – you see great deer when the season is out, and big hogs when you are deer hunting.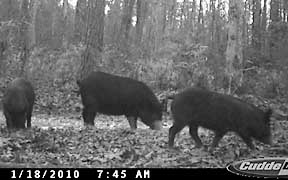 I am going to hold off on putting any more pics up or telling any more hunting stories, however I will go ahead and tell you that several more hogs have already been killed this week. So stay tuned for more hunting updates about those lucky souls that are here now as well as about the big group coming in this weekend… The temps are supposed to stay cold, but rain is forecast. So we will hope that it holds off for them and gives them some decent weather for their hunt. And if it does, they should see some of the good hogs that we have been seeing on the trailcams lately. Just check out the couple of tasty meat hogs getting a snack at 7am down on the River property.