That's right. Cypress Creek Hunting Lodge now offers a bowhunting-only camp here in South Carolina for our stick and string shooters!
We have always had a lot of bow hunters that stayed with us, and they generally had great success while hunting our deer and hogs off of the same lands our gun-toting guests use. However, as any hunter can tell you, hunting pressure can have a huge affect on their success rate. And of course the loud report of a gun always does more damage to the tranquility of the woods than does the quiet release of an arrow from a bow. Couple this with the fact that it is just MUCH harder to get any animal within the magic 30 yard window most bowhunters are comfortable taking a shot in, and a hunter using a bow has really set him or herself up against some tough odds on any piece of hunting ground.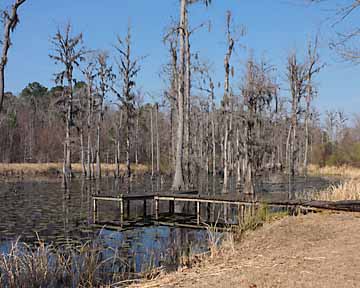 However as committed bow hunters know, removing all of the gun-hunting pressure from the woods can really aid in keeping deer and wild boar moving freely and a little easier to coax into that 30 yard window of opportunity. And we have now done that with our new bowhunting-only camp located on 400 acres of beautiful lowcountry woods that sits right off of the Savannah River and is loaded with big deer and hogs.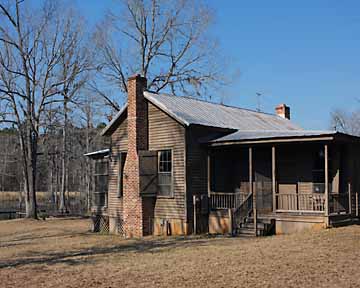 Up to 4 guests who come to hunt this pristine new area will have sole access to this tract as well as to the unique, quaint old cabin that not only sits on the property, but directly on a beautiful 22 acre pond. Hunters will also have the option of bringing/preparing their own food or joining us over at our Luray lodge just minutes down the road for their meals. And no vehicle traffic will be allowed either – just a quiet electric golf cart to navigate the property or the hunters' feet. And when you combine these restrictions with the fact that this tract has not been hunted at all in the last 3 years and only hunted before that by special guests of the owner who also owns the 4000 acres next door, you have the makings of a bowhunters dream hunt in the South Carolina lowcountry.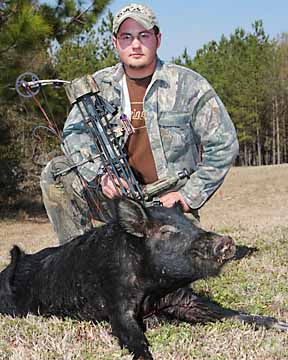 Please call Becky at 1-877-520-2245 if you have any questions about our new bowhunting camp or to be first to book a hunt at it.
PS: While he didn't get it on our new bow-only tract, check out our good friend Justin with his nice 100 lb boar that he shot Monday afternoon with his bow over on our River tract – his first wild hog kill with his archery tackle. Congratulations Justin!
Jeff