Cypress Creek Hunting Lodge finally finished up our lowcountry turkey season and Spring hogs hunts, and we are now gearing up for our summer hog hunts. It will be 100 degrees in the shade, the bugs will be thick and so will the sweat running off of you while you hunt. However if you pull on a pair of shorts to hunt out of comfortably, grab a Thermocell to keep the bugs at bay while you are in the stand and then factor in the very low pressure during the summer months, you have all of the makings of a great hunt. So give Becky a call to set up your dates, and come join us for some summer hunting fun!
As for us here, after a LONG 6 weeks of pursuing big gobblers, we wrapped up the season at sunset on May 1st. And while we always love when it starts, we also love when it ends. Turkeys are a tough animal/bird to hunt, and when you call one in here in SC anytime during the season, you have killed one of the toughest trophies we have. However as the season winds down, and the big gobblers have heard and seen it all from us hunters, it can get even tougher to take one. But fortunately Woody Sullivan of the Backwoods LifeTV show and Justin were up for the challenge, and they had the good fortune of harvesting the last bird of
the season when Woody shot a 20.4lb gobbler that sported a 10 1/4 inch beard and 1 1/4 inch hooks. That brought our turkey harvest to 16 for the six-week season including the 2 birds that our good friend Larry Proffitt shot while guiding himself over the first 3 days (the 3rd year in a row that he has done it!). So a huge congratulations to all of our successful turkey hunters this season as well as a "better luck next year" to those had great hunts but just didn't get to take one this season.
However, while turkey season was winding down, our hunters were still trying to kill a few more Spring hogs despite the hot, very dry weather that had been keeping the hog movement down. And Bob from NY was one of the fortunate hunters when he rolled up a nice 60lb. meat hog down off of the Savannah River. The same spot also produced for our friend Gene from NC who took a nice meat hog this time around and Jimmy shot a good boar as well. Russ, a police officer from PA, took some two 60 pounders while hunting with us while Bill, down again from MD, shot a nice boar hog too.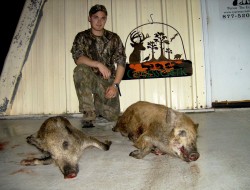 So now that we have wrapped up our Spring hog hunts and closed out turkey season, we are now taking most of the month of May off to let our lands and ourselves rest!!! You can only work from dark30 in the AM to 10pm for so long before everyone runs out of gas and needs some time off. We will also be using the month of May off to finish making some VERY BIG CHANGES here at Cypress Creek, including adding/setting up another new tract of land and moving into a beautiful new lodge with some amazing lowcountry history associated with it!!! Our entire next blog post will have tons of new pictures of all of the bedrooms and amenities along with shots of the huge kitchen where Neta will continue to turn out some delicious meals and our wraparound porch where our hunters will be relaxing after their hunts. So please check back in to see it all!
Unfortunately not all of the changes here at Cypress Creek have been welcome. Becky's dad, Dennis Smith, lost his battle with cancer on March 30th at the age of 84. Dennis was a WWII Navy veteran and 34-year employee of Stockham Valves & Fittings, and he will be greatly missed by all of those that knew and loved him. Becky and Danny truly want to express their sincere appreciation for all the phone calls, cards, thoughts and prayers from everyone over the past few years as his health declined, as well as for the outpouring of support after he passed.