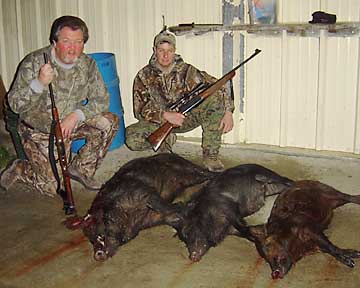 The last week has been a busy one for our hog hunters at Cypress Creek, and I am just now getting a chance to get caught up here on The Skinning Shed with all of their ups and downs, kills, misses and sightings!
Last Sunday through Tuesday we had a group of 8 hunters down from Virginia, and they were covered up in hogs. The final tally was 3 down, but they sure had plenty of opportunities to harvest many, many more. As a matter of fact their group took a total of 20 shots during their stay which included the
harvest of one beautiful black coyote from behind the lodge as well as their pigs. And out of their kills, Tommy won their group's big hog contest with his great boar off of the River.
After the VA group, we had a great couple of guys down from Pennsylvania, and they knocked down 4 hogs between the 5 of them. John and Jason both shot
nice hogs over on Boggy Creek while Lamar killed two good eaters over on Telfair Plantation.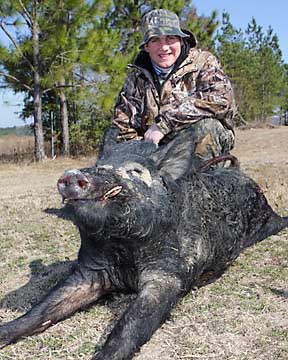 Then for this past weekend's hunt, we had two small groups in camp, one from Tennessee and the other from North Carolina, that had quite a lot of opportunities as well. And this was despite the extreme warm spell that showed up with them! There were several misses, one wound, one kill and tons of sightings of pigs either running by or of big sows with lots of young piglets. Kent with the NC group was the lone gunman that made his shot count down on the River.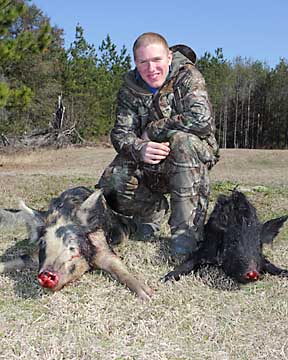 Note: We discourage the killing of our sows with very young piglets that will not survive without their mother and then leave it up to the individual hunter if the piglets are older. Most of our hunters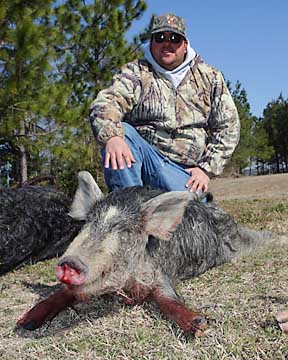 choose to pass these as well since sows that are still nursing do not provide the best-eating pork, and many of them are looking for a monster boar anyway!
So, as you can see, the pigs keep moving and our hunters keep knocking them down. And now with a few days off and no in at the lodge, we have some time to let all of our properties rest so that we can keep up the number of opportunities our hunters will get during their stay with us. Now we just need the cold weather to return to help push the hogs to the corn.
We have truly been blessed this Winter with some great hunting for our guests, but we have been even more blessed to have such great people hunt with us. We look forward to having more of them in camp, and I look forward to sharing their stories here.
Jeff