Here in the lowcountry, we are still dealing with freezing temperatures along with tons of rain. And the combination continues to keep the hogs from moving very well.
We had a group from NC at the lodge this past weekend, and while a few hogs were seen despite the horrible weather, no hogs were taken. So in addition to the always uncontrollable weather, the following reasons kept the cooler bare for our hunters: sows with very young piglets, a big running boar that wouldn't stop for a clean shot and a HUGE hog that just didn't get inside the magic 30 yard radius that our bowhunter needed for an ethical shot… These are all just things that happen when you are hunting fair chase, free range animals on their turf ….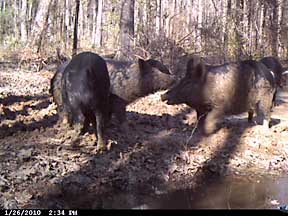 However, while we only had a few hunters earlier in the week, the conditions were definitely better and so was the hog movement for them. That allowed Thomas, home locally during leave from the military, to harvest a nice boar over on the River during his one day hunt. The decent winter weather also helped Tony, down from Laurens, SC, to also take a nice 130 pound sow down on the River as well. So congratulations to both of them.
And since the guides had some extra time this week, they not only were able to get up a few new bow stands, they also had a chance to get the trailcams moved around a bit as well as check what was on there from last week. Sure enough, some more great pics of life in the lowcountry woods including quite a few shots of nice pigs hitting the corn during the mid afternoon and big gobblers teasing us with images of their dangling beards.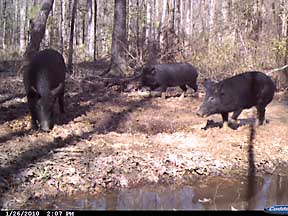 As for the week ahead, we have 4 hunters at the bow camp for 5 days. And since the hogs have really been hammering the place, we are just hoping that the hunters will get a few breaks in the bad weather that is forecast to plague the South Carolina lowcountry for the next week and allow the big boars to move for them.
As always, we look forward to sharing their adventures with you next week. And please note, we are only weeks away from our South Carolina turkey hunting season that starts on March 15 and runs through the end of April, so make sure and call Becky to check what dates are still available… Spring is not only beautiful in the lowcountry, but it is truly one of the best times to be in the woods pursuing our big longbeards and giant hogs.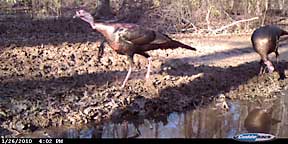 PS: Included in this post is a great shot of Matthew, down from GA during the last week of deer season.  Check out the two nice bucks that he was able to take during his visit. So not only a huge congrats on his fine deer, but a big thank you for emailing us the shots for us to share here on the Cypress Creek Skinning Shed