Our lowcountry weather is finally starting to warm up during the day, so you know that Spring is just around the corner. However the mornings and evenings are still pretty cold, and that is keeping the hogs hungry and  hitting the corn fairly well.
And good hog movement is what any pig hunter wants. But young, new sportsmen on their first hog hunt really need lots of action to stoke the hunting fire in their belly. Fortunately, that is what Aaron, down from WV with his dad Gary, got during last week's hunt when he shot a nice 120 pound boar. So congratulations to him on his first pig! But as real, fair chase hunting can go, fellow West Virginia huntress Jessica, who was hunting with her dad Robert, didn't get one. However, kill or no kill, those new hunters all had a fantastic time in South Carolina, and we look forward to having them back again soon.
Our other weekend group, down from PA, also had a great time. And head hunter of the group, Paul, knocked 3 good sows down including two over 115 pounds. Readers may remember Paul since he has hunted with us for several years and was last on the Skinning Shed during deer season when he shot a nice buck over on our trophy land.
Pete, another PA group member, also shot a nice 118 lb boar. And he almost harvested multiple hogs too, but ended up going home with just his one after the pigs hung up under his stand at dark where he couldn't get a shot on them. However Pete has vowed to get them when he and his dad return in April for a combo hunt. He said that since  he saw so many big gobblers and hogs during his hunt, he had to come right back for another shot at the pigs that escaped his gun as well as add some turkey breast to his freezer.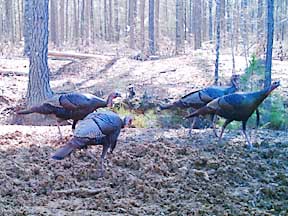 And speaking of our turkey/hog combo hunts, the spring season is now just 11 days away. And with all of the big gobblers sighted around the woods along with their booming gobbles at daybreak, we are chomping at the bit to get at them. We would love for you to join us, but we only have a few dates in April left, so if you want to add a giant lowcountry redhead to your collection, please give Becky a call ASAP.
And make sure and check back on Monday for more Cypress Creek Hunting Lodge news. Our hunters have been hard at it during the last few days and have already killed several hogs, so we are looking forward to sharing those kills and their stories with you all.