That's right. The South Carolina deer hunting season is just about here… 25 days and counting to be exact.
I sure hope everyone is getting excited about hitting the deer woods again, even if it is 100 degrees in the shade with giant mosquitoes joining you in the stand

I know we are! We have been working hard to get everything set up and ready (Bubba and Henry the hardest to be honest), and I think we are almost there. We have just a couple of food plots left to plant and just a few stands that need some TLC, and we are ready for those fortunate hunters that will be joining us those first few days.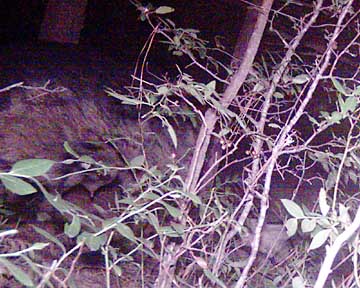 Now we just need to get the trailcams moved over to Pleasant Hill so we can get some great new pics of our trophy bucks our guests will be looking to harvest. We are also hoping to find some time to actually get out and sit in a stand with the video camera too so that we can get some great new footage up here of those monsters! So definitely keep checking in with us as kick into high gear for the coming August opener.
And speaking of video footage and trailcam pictures, we have some of each to keep everyone informed and entertained until our next big group of hog hunters arrives this coming weekend and provides us with some hunting stories and harvest pictures. First we have two new hog hunting videos – one is from the Dodge Everyday Sportsman and the other is from Blue Ridge Outdoors.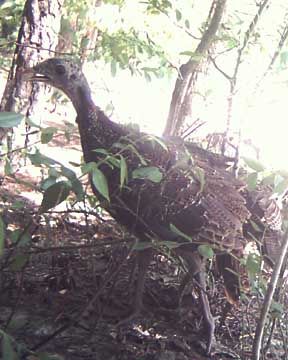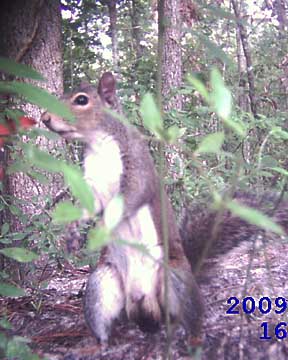 We also have a couple of new trailcam pictures, despite the best efforts of our hogs to rub against the tree it was tied too and spin it around so that it looked into the bush. As I have said before, some of them are just downright shy about having their picture taken. First we have a giant sow moving through the woods behind the feeder, second we have neat looking hen turkey cruising around and finally we have the leader of the trailcam revolution – Mr. Squirrel – there checking to see what needs to be done to disable the camera so that it doesn't get any good shots of his friends the hogs

Hope everyone is having a great week!
Jeff